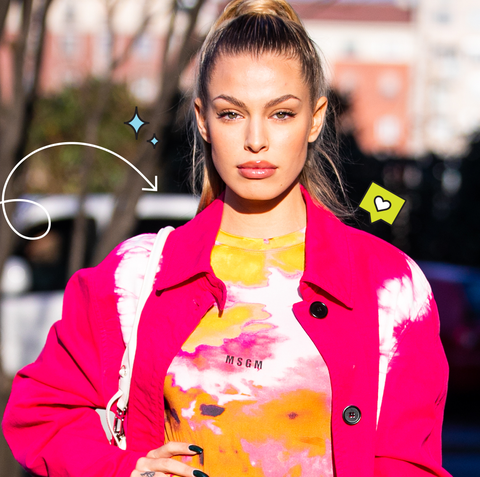 khadija hortonGetty Images
Is it just me or is everyone wearing tie-dye sweatsuits on IG right now? Okay, cool, not just me! If you *don't* feel like spending the money to buy your own though, you can make one yourself—like, super easily—with sweats you already have. FYI: You can DIY tie-dye with really anything—socks, shorts, hoodies, T-shirts, bralettes. The options are endless. So, because you know you're bored in the house and you're in the house bored (sorry, I had to) here's everything you need to know about how to tie-dye legit anything. (P.S. These steps even apply to household items like curtains and sheets if you want to get reallyyy crazy.)
Oh, and just in case you're wondering if last summer's tie-dye craze will be around through this summer and beyond (so you don't like, ruin a perfectly good plain white tee), you'll be happy to hear it is very much still going to be A Thing throughout 2020. Aaaand, if you're the kind of person who's worried about screwing up a DIY proj, have no fear. I tested these tips and got a cute new tie-dye sweatsuit out of it, so you should def be able to do it too.
Quick final note: Wear something you don't mind getting stained…you've been warned.
---
1. Round up everything you'll need.
Most craft stores or big retailers like A.C. Moore, Michael's, and Target sell tie-dye kits that include all the materials you'll need, but chances are you have most of them laying around your house anyway.
Rubber gloves
Rubber bands or hair ties
Plastic spray bottles or squeeze bottles
Dye or bleach
The item(s) you want to tie-dye
If you don't have a squeeze bottle, fret not. Just poke a small hole in your dye bottle with a pencil and viola, you're good to go!
2. Prepare your ~space~.
Grab an old sheet or towel, the clothing or fabric you want to dye, and take all of your supplies outside or to the garage. If you're doing this inside your home, you can use a plastic bin, your tub or shower, or lay down a garbage bag to protect whatever surface you plan to use as your work area.
3. Decide on your dye design.
Every tie-dyed item is uNiQuE, and there are so many different patterns you can create. These are a few of the most common to try out.
A classic spiral

Here's how to do it:
Pull the shirt from the center area (or wherever you want the spiral to be).
Twist in one direction so the entire material is tightly knotted in a circular form.
Use rubber bands to secure the shape. If you want to do a rainbow, you can use more rubber bands to create six sections (like pie pieces) for each different color.
Dye sections with your chosen colors.
A bullseye
Here's how to do it:
Pull the center of the fabric through your hand to make a long tube.
Place rubber bands down the entire length, spacing them evenly.
Dye each section a different color to create the effect, or stick to the same color and just get larger and larger white circle outlines.
A striped look
Here's how to do it:
Fold the sleeves (or sides of your fabric) inward.
Pinch and continuously fold the shirt over.
Put rubber bands on the ends first to keep the material in place.
Then place them down the rest of the tube-like shape.
4. Now, start tying those rubber bands yourself.
Get creative and use the rubber bands to tie and knot in various directions. This is arguably the most crucial step, as how you tie your material will result in the pattern of the dye, so check out out the ones mentioned above for inspo!
You can make as many or as few sections as you want, and combine some of the above ideas to shake things up—do whatever makes you feel good.
5. Dye away!
Spray or soak each tied section you've created with a different colors or the same shade—whatever speaks to you!
One last trick for ya: If you want a more monochrome look, you can dilute some of your dye with water before you apply to your clothing. If you apply that to some parts and in other areas you go with the 100-percent dye formula, that'll result in sections with lighter and darker/more saturated versions of the same color.
6. Let it sit for a lil to absorb the pretty colors.
Let your material absorb for at least 1 hour (for an overall lighter dye job) and up to 24 hours (for a more saturated one). You can also carefully wrap the item in cellophane or place it in a plastic bag to prevent any leaking—just make sure the colors don't touch each other.
Less than 12 hours: The shorter time it rests, the lighter the dye will turn out. About 2 hours is ideal if you're going for pastel shades.
12-24 hours: The more time you give it, the more the dye bonds with the fabric and gives it an intense, saturated color.
7. Rinse and dry your cute new clothes.
Undo your rubber bands and rinse your items out under cold water until the runoff is clear. Then, throw them in the washer, followed by the dryer, for a regular cycle time. Yes, use detergent! I did mine about thirty minutes each, for reference :).
8. Get your 'gram pic.
Optional, but def recommended! This is how my new tie-dye set turned out. Cute, right?
9. Btw, if you don't have dye, here are some alternatives!
Natural dyes:
If you don't have dyes handy (or don't feel like buying 'em) you can always make your own dye from various foods and spices. Boiling ground turmeric, avocado pits, yellow or red onions, and cabbage can actually create some gorge, natural hues. Watch the vid below to see some examples and learn how it all works.
Bleach:
Pro tip: If the food hack isn't your thing, use bleach to create an acid-washed effect. The best part? You just mix it with water, so it's v easy. But unlike colored dye, you only have to wait around for the "dye" to take effect for a matter of minutes, like 8-10 to be exact.
Click the vid below to get a full demonstration.
You'll get the most contrast with this effect on dark denim, jersey, and knit fabrics, but it also works on lighter shades for a more subtle vibe.