Where a Design Editor Looks for Color Inspiration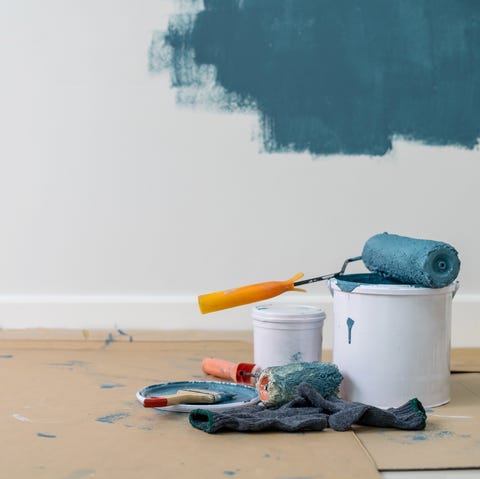 Kittiphan Teerawattanakul / EyeEmGetty Images
Whether you're decorating a brand new home or giving your bedroom of three years a refresh, color—from the paint on your walls to the shade of a statement armchair—is a crucial element of cultivating your desired aesthetic. With thousands of options at your disposal, though, the task of narrowing down the right choice can feel daunting.
So where to begin? Here, House Beautiful's design editor, Hadley Mendelsohn, shares some of her own sources of color inspiration, from exploring flea markets to the palettes of her favorite films. These tips are especially helpful for bigger choices like wall paint or your home's overall color scheme, but you can use them to start thinking about furniture and accents, too. To turn your inspiration into reality, try The Home Depot ProjectColor app, which can pull up paint-color suggestions to match just about anything that catches your eye.
Refer to your fashion sense
When choosing colors to decorate your home, a good place to start is by looking at the shades you choose in your wardrobe and personal appearance, Mendelsohn says. "Open up your closet and see what colors dominate there—things you're comfortable with that you're obviously drawn to and wear again and again."
The colors you consistently go back to—in the form of a sweater, favorite lipstick, or fresh manicure—are easy indicators of shades you'll likely be happy to see on your walls each day.
Focus on a prominent piece
Identify an anchor piece in the room you plan to paint—maybe it's a large painting, an armchair, or a rug. Mendelsohn says to consider this item when choosing wall color options and the colors of other elements in the room, to avoid clashing. This is especially smart if your anchor is an heirloom or something you won't part with anytime soon.
"If you've inherited a piece that you have to incorporate, I usually get creative and try to work around a palette that honors the bones," Mendelsohn says. For example, when moving from L.A. to New York, she inherited a dark wood bed frame from her new apartment's previous tenant. It's since come with her to her next two apartments. She's planning to paint it black to pair with a light blue silk canopy that will hide her new bedroom's exposed brick wall.
Alternatively she suggests pulling a paint color straight from your anchor piece. Would the pale green from a framed photo translate well on the walls? Go for it! To match your color source with an actual paint shade on the spot, try the The Home Depot ProjectColor app. Simply take a picture or upload one of the artwork, furniture, or anything else that inspires you, and the app will help find the closest paint color to the item that's available at The Home Depot.
Tune into your local setting

From the Hawaiian-print rattan futon she left behind in California, to the gold accents in her current New York City apartment, Mendelsohn says that geographic location can be a good place to draw color and design inspiration from. "It's important to not only reflect your personal style, but to have a narrative you're creating that feels like an extension of the surroundings," she says. "Otherwise it feels like there's a weird disconnect."
That's why in her apartment in New York, she opted for a sharper vibe. "It's just a little more sleek," she says of her design style after moving from L.A. "You have less space, so you don't want things to be as flowy and round and soft…it should feel a bit more sharp and tightened."
Explore and mood-board online
Mendelsohn says that checking out some of her favorite websites and accounts "sets off a little creative brainstorm about color" in her mind. She'll poke around on the feeds of artists, designers, stores, and other creatives to find inspiration, be it from a painting, photograph, or collage with some unique color aspects. "I'll see some kind of unexpected shade or pigment that I wouldn't have thought of or dreamt up out of thin air."
If you use the world's most popular virtual "pinboard" to organize your ideas and projects, you can connect it to The Home Depot ProjectColor app, as well. Import your boards and pins into the app, and you can color match anything you've saved, from interiors and architecture to scenes further afoot, like far-flung locations or crafty DIYs.
Browse flea markets
Many of the pieces from Mendelsohn's previous apartment in L.A. and current bedroom in New York have been collected over time from flea markets. She grew up going to them with her mom and continues to find inspiration for her eclectic style at them today.
Flea markets are a great place to source all sorts of home items, like dishes, decor, and artwork. Mendelsohn seeks out another staple—rugs—when she visits a market. "I love art deco rugs, for example," she says. "They have so many rich pigments and color combinations that I wouldn't expect to work together or look good." Rugs allow you to lay a colorful foundation for more neutral pieces of furniture, and can inject pattern into a more subdued room. Even if you aren't making a purchase, seeing vibrant rugs in person can be an inspiration to get you out of your color comfort zone.
Watch your favorite beautiful films
"I can't watch [some movies] without taking a million screenshots and making a million mood boards out of them," Mendelsohn says. So next time you sit down to watch a visually impactful movie—whether you've seen it dozens of times or it's new to you—pay attention to the color story, and think about how you could incorporate elements of it into your choices at home. Imagine telling guests that the color of your bathroom was inspired by a scene in one of last year's award-winning films!
Follow House Beautiful on Instagram.
This content is created and maintained by a third party, and imported onto this page to help users provide their email addresses. You may be able to find more information about this and similar content at piano.io